Jorge - Jorge Arnanz
SPU Internation College
Lecturer in International Hospitality Management
Education Background
PhD candidate in Integrated Tourism Management at NIDA.
Master's Degree: M.A (European Tourism Management with Merit) Bournemouth University, UK.
Master's Degree: M.Sc. (Management and Tourisme with Merit) Université de Savoie, France
Bachelor's Degree: B.A. (Primary School Teaching Major in English) University Camilo Jose Cela, Spain
Bachelor's Degree: B.A. (Tourism) University Rey Juan Carlos, Spain
Country:
Spain
Nationality:
Spanish
Any special talent
: I'm very good at remembering people's names and also driving in Bangkok (I could be a taxi driver here if I stop being a lecturer)
Describe your personality briefly
: I have an outgoing personality and I love meeting new people and visiting new places. I am also very foodie and I love trying new dishes from all around the world!
IG: jorgearnanz
Facebook: https://www.facebook.com/jorge.arnanz.arroyo
What brought you to Thailand?
- I met my wife (Thai) in the UK when we were studying our Masters. During the time we were living together in the UK and Spain we visited Thailand almost every year and I felt in love with the country, its people and its food. After 8 years living together in Europe we decided (actually it was me asking my wife to do it!) to move to Thailand for good.
Could you tell us briefly about your teaching experiences?
- Even since I was studying in France and the UK I started teaching Spanish in private lessons. When I came back to Spain I taught English and Spanish as private lessons. Also, while studying my Bachelor in Primary Education I did my internship at a school, teaching English and other subjects. Since 2015 I've been teaching in Thailand at a university level, both to undergraduate students and to Master students (part time).
What are the reason that you chose to teach this major?
- After a couple of months teaching English as a part-time lecturer I got an offer to teach IHM at the International College and it was a great opportunity for me, since this was totally related to what I studied in University and to my previous work experience in hotels and travel companies.
What is the strength of this major?
- Hospitality Management is a major which can offer students a wide offer of job opportunities after graduating. Some of our students aim to pursue their career in Thailand, where the tourism and hospitality industry is one of the main sectors of the economy, and studying the degree in the international program is an advantage for this students. For those wanting to continue their career abroad, this is also one of the best options since the tourism and hospitality industry is one of the biggest industries in the whole world, with a broad variety of disciplines and innumerable opportunities for travelling.
What kind of teacher are you? Could you explain?
- I am a teacher who loves explaining things by using a lot of examples. Even if many times I need to use a lot of technical words for my subjects, I always try to explain the concepts using easier words and illustrations that can be easier to understand. Also, I try to encourage participation in the class and I always ask questions and try to make everyone give their opinion during the lectures.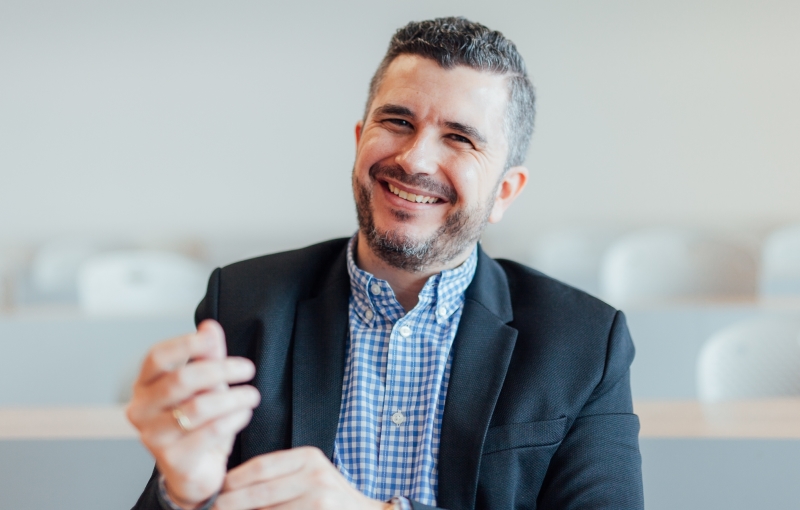 Could you share us some memorable moment or funny story that you had during teaching students?
- As a fun story, as I mentioned before I am quite good at remembering names and many students don't know this at the beginning. There were some subjects in which I had many students in the class (over 50) and many of them tend to stay in the class until I checked the attendance and then go home. What they didn't know is that after a few days I could remember their names and faces and I would write it down if they didn't stay for the whole class. After some time, I told them about "my talent" and I call each of them by their name and then I mentioned that I know exactly who stays and who doesn't and that this would affect their attendance scores. Since that day almost everyone came to the rest of the classes and they stayed until the end.
Is there any difficulty teaching students both Thai student and International student? And what is the difference between teaching Thai Students and Intl Student?
- The main difficulty of teaching both Thai and international students is the huge differences in English skills. Since all the lectures are conducted in English. It is very important that all the students have a good understanding of the language. However, many times, in the same class I find some students with an outstanding level combined with some students with not such a good level. This means that for some students the vocabulary and explanations used in the class would be extremely difficult and for others it could be rather easy. The best solution is to try to go in the middle and also to try to involve the higher level students so that they can help those with a lower level. Regarding the main differences between Thai and international students, I would say that they would be in terms of participation. Many Thai (and from other Asian nationalities) students are somehow "scared" of participating in the class in case they say the wrong answer or just because they are shy. International students they tend to be more participative in the class.
What thing here impress you the most?
- The thing that impresses me the most about students at university, and especially at SIC is their natural ability to relate with people from different cultures and different nationalities. Even if some of them don't have a high level of English, they always try their best in order to communicate with each other and have new friendships.
Could you recommend to those who are now considering to study at SIC?
- I think SIC is a very good institution for those Thai students who want to have an international education, taught by internationally focused professionals and in a multicultural environment, but they're not sure (or not ready yet) about leaving their own country. Studying here will give them the skills, the experience, the contact and the confidence to, in the future, leave their comfort zones and have an international career anywhere around the world.