Our Alumni: Sinat Soeun
About Sinat:
What is your full name? And what is your nickname?
- My name is Sinat Soeun and my nickname is Sinat.

Where do you come from? Which city?
- I am from Cambodia – Ratanakiri Province.
Which school did you graduate from? And where is it?
- I graduated from Hunsen Phnom Penh High School.

What faculty and major are you in?
- I'm studying in International Hospitality Management.
Living in Thailand:
What are the reasons that you decided to come to Thailand?
- In Thailand, There are so many things that interest me such as culture, people and Thai language.
How do you like Thailand?
Thai people are friendly and helpful. They make me feel like I'm one of their family, as well as the foods here are so cheap and extremely delicious.
What is your favorite Thai food?
- All Thai foods are my favorite, but mostly I love som tum.

What places in Thailand have you been visited?
- I have been so many places such as Khonkaen, Mahasarakham and Chieng Rai. Actually, There are so many places that I've been to but I couldn't remember the name.

What are the Thai traditional festivals that you know and what is your favorite one?
- I love the most is Songkran.

what place do you most often go while staying here?
- I often go Jatujak, Pratunam and Central World.

What do you mostly like to do in your free time?
- I love to go to the library for reading a book. Also, I enjoy running.

Studying in SPU
What are the reasons that you chose to study in SPU?
- I chose to study at SPU because SPU is the best choice. I have a chance to meet different international people.
How is the study atmosphere in SPU?
- The atmosphere here at SPU as well as all the teachers are nice, friendly and helpful. And I have got so many opportunities to join special events, contests. And from the support of SPU, I also won and were selected to represent Thailand in IMEX International Event 2017 in Frankfurt, Germany.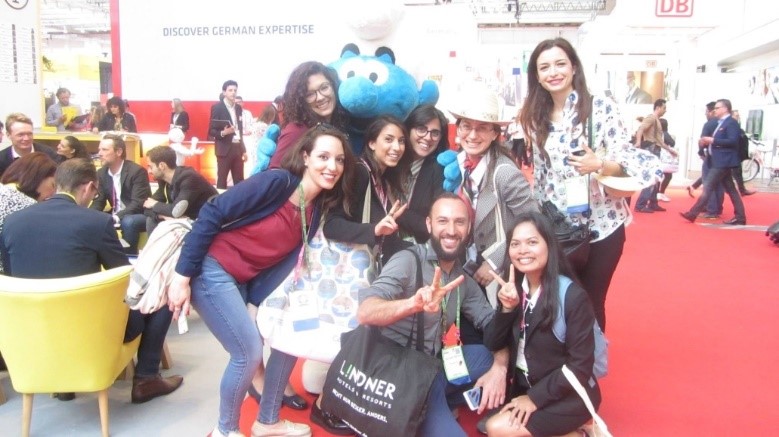 What is the best way to improve your English?
- For me, There are 4 ways: Study hard, watch English movies, speak English confidently and talk with your international friends.

What kind of job would you like to do after you graduated from SPU?
- I would like to work at Homepro company in the department of Human Resource management.

Last question, would you like to say something to your friends who are considering studying in SPU?
- You won't be regret, if you choose to study at SPU. You will get a lot of chances and improvement. Believe me!